You can request official transcripts by visiting the following official transcript request sites
You may also find a link to the official transcript request sites by visiting westhillscollege.com or the myWestHills student portal.
WestHillsCollege.com
Select your college's site

Select Resources > Transcripts

3. Click the Order Transcripts Online button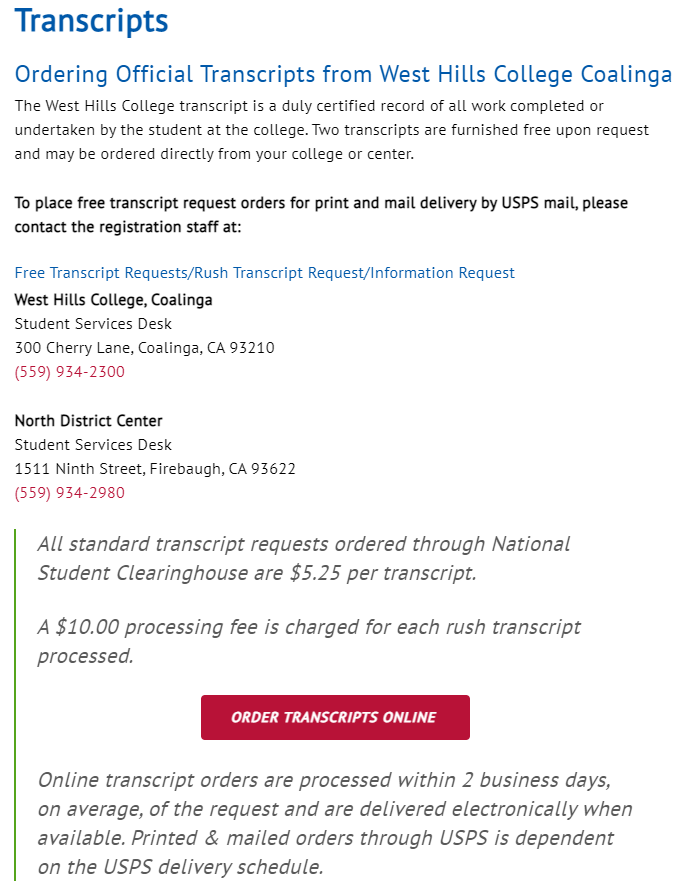 myWestHills Student Portal
1. Navigate to www.westhillscollege.com and click on myWestHills

1. Login using your myWestHills login
2. Scroll down to the West Hills Profile section under Service Desk
3. Expand the Academic Transcripts Menu
4. Click Request Official Transcript (Coalinga) or Request Official Transcript (Lemoore)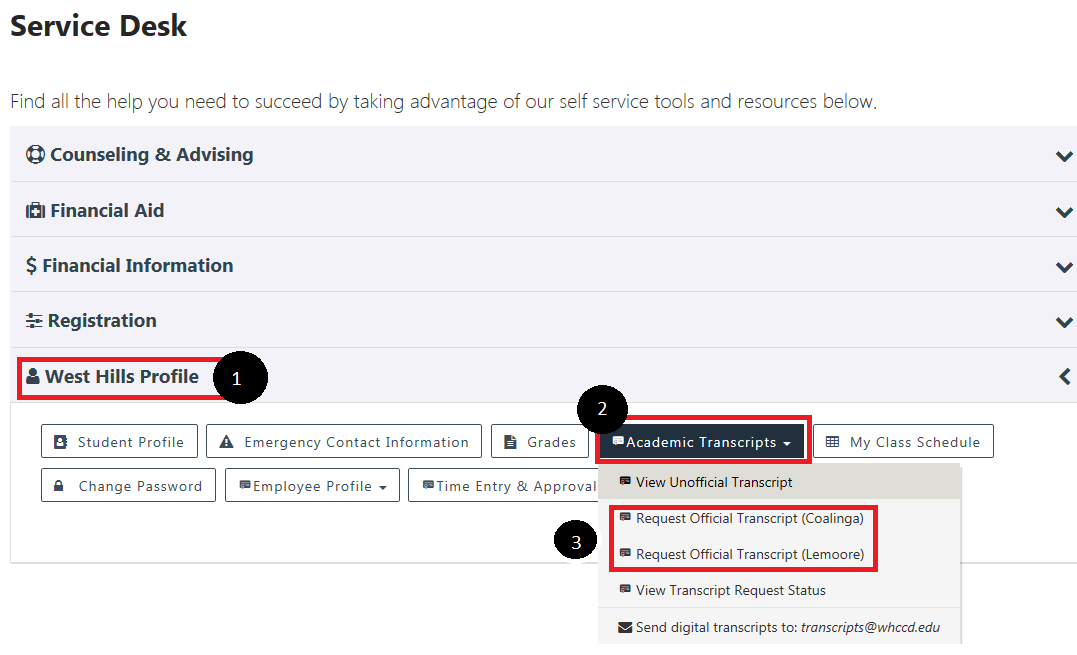 Once you are on the National Student Clearinghouse page to start your order:
1. Review the notices regarding transcript requests – these change based on topical issues and service availability. After reading the notices, click the green Order Transcripts button on the bottom of the screen. You may need to scroll down to view it.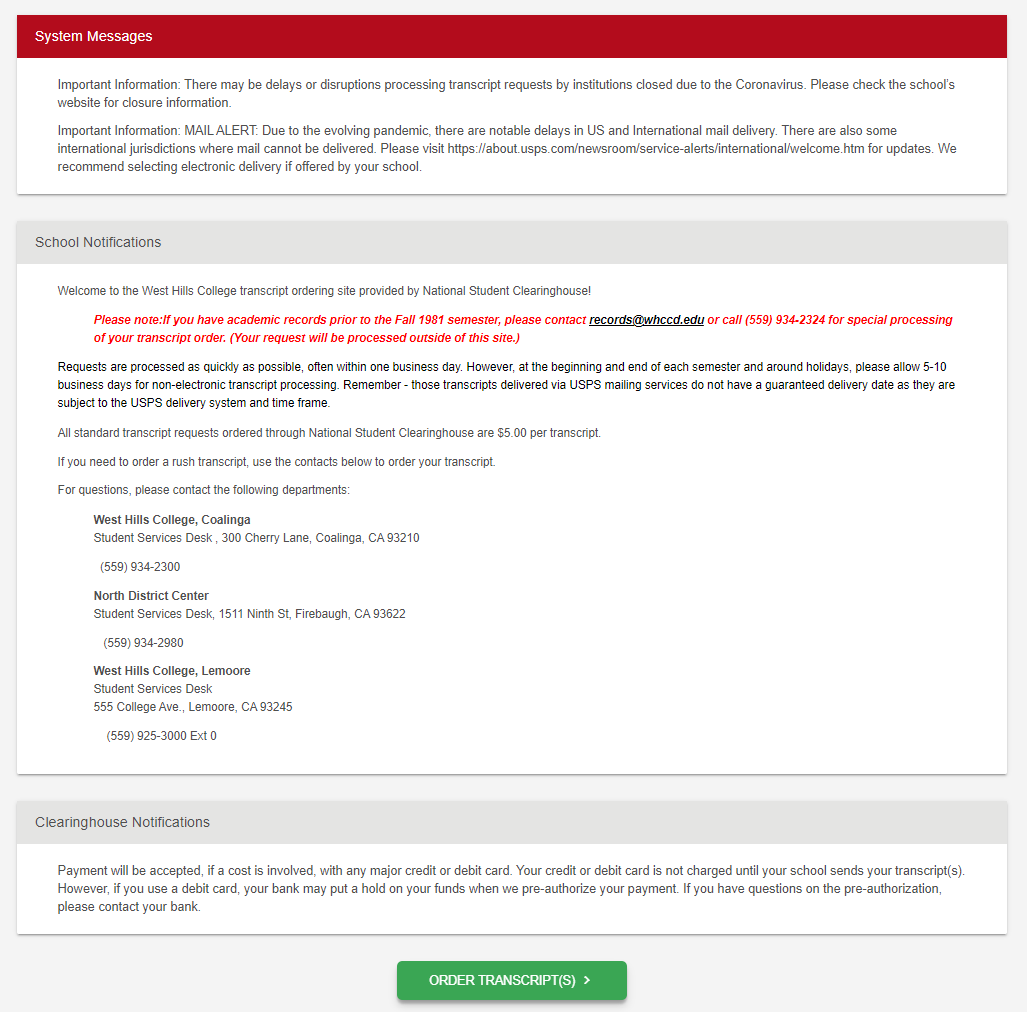 2. Enter your personal information. If you don't remember your student ID, you can use your social security number instead. If we aren't able to locate your record based on the information you enter, we will contact you.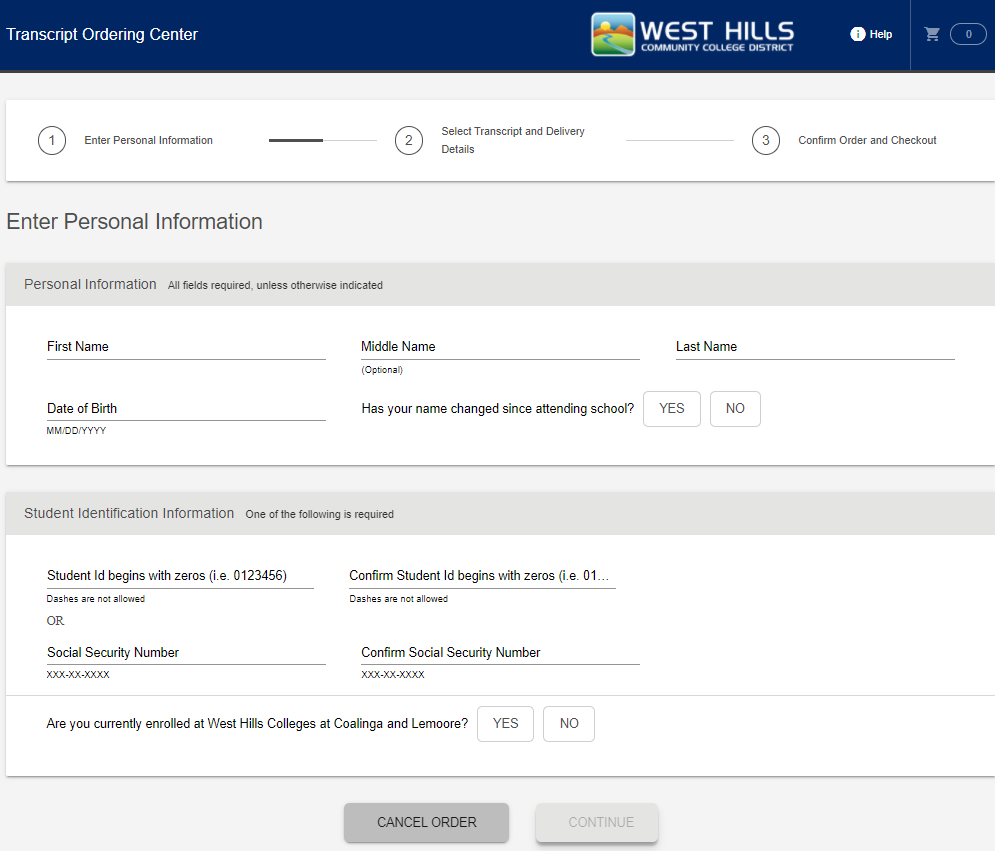 When you have completed the required fields, click Continue on the bottom. This button will not work if you are missing information on this page. If all information has been entered it will be green:
3. Next you will need to enter your address, phone number, and email. This is your information, not the contact information for the person or institution you are sending your transcript to.
When you have entered all information, click Continue.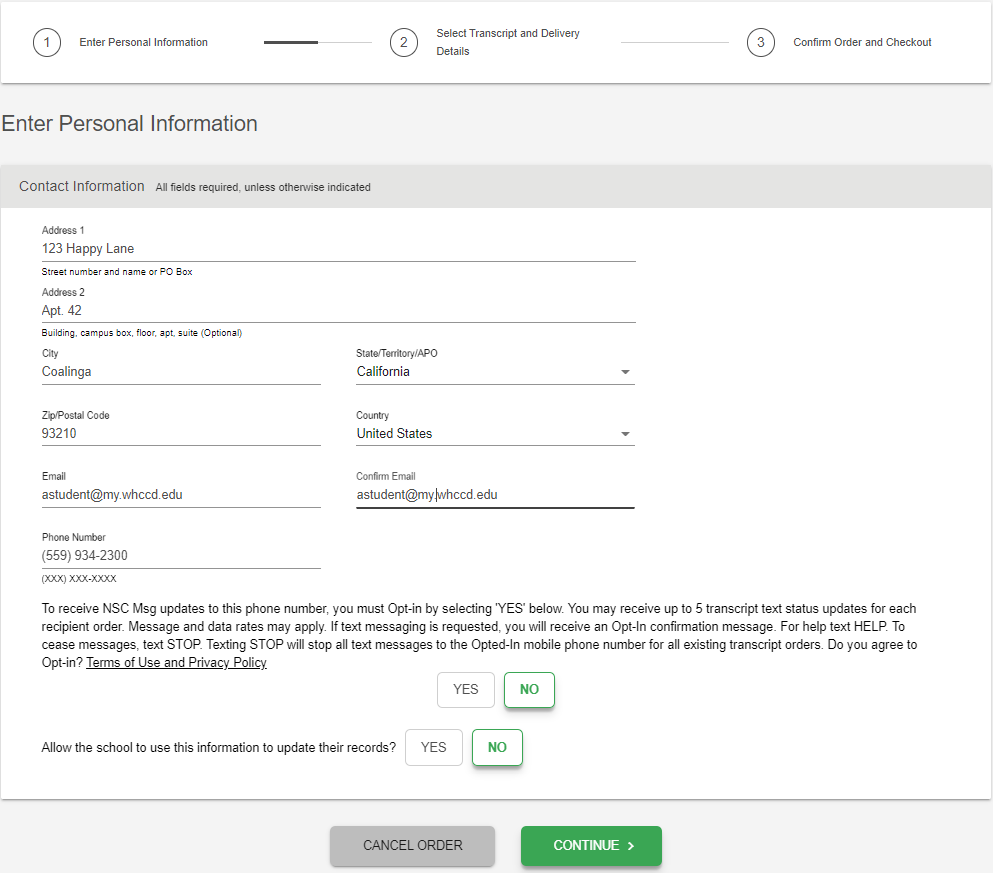 4. Next, you will enter the information for the person or school you want to send your transcript to. First, pick the type of recipient.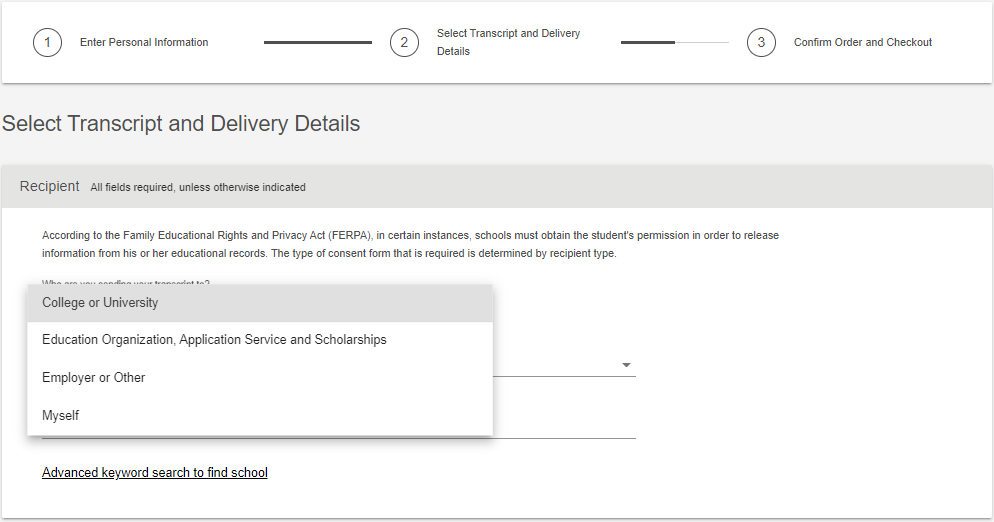 a. Next, if you picked College or University, enter the Country and State of your recipient.

Then start to type your school name to pull up a list of institutions. Make sure you enter the actual name of the school, not the nickname. For example, to see Fresno State, you need to type California State University and then scroll down to see Fresno.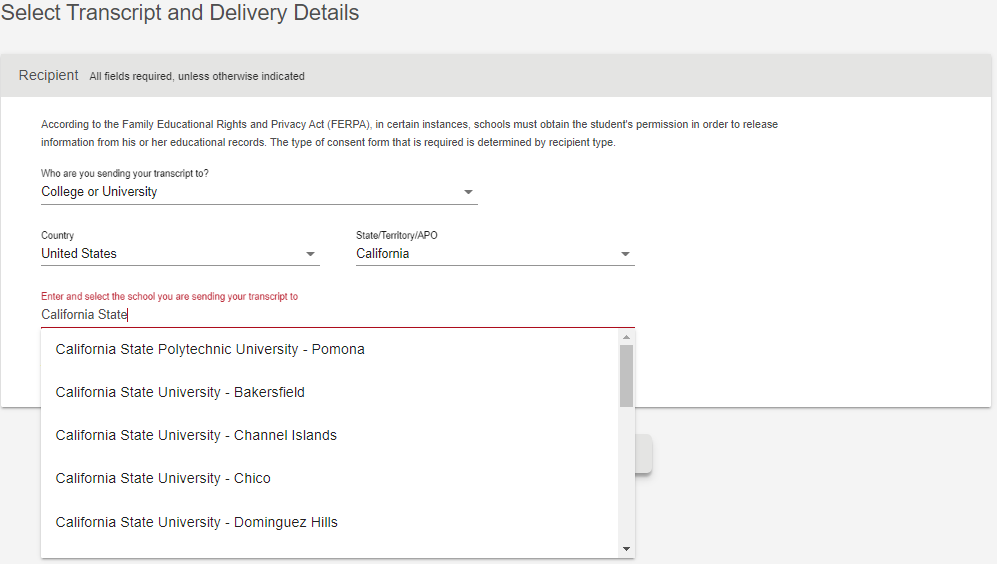 Then pick the office you are sending to or enter it if it is not listed.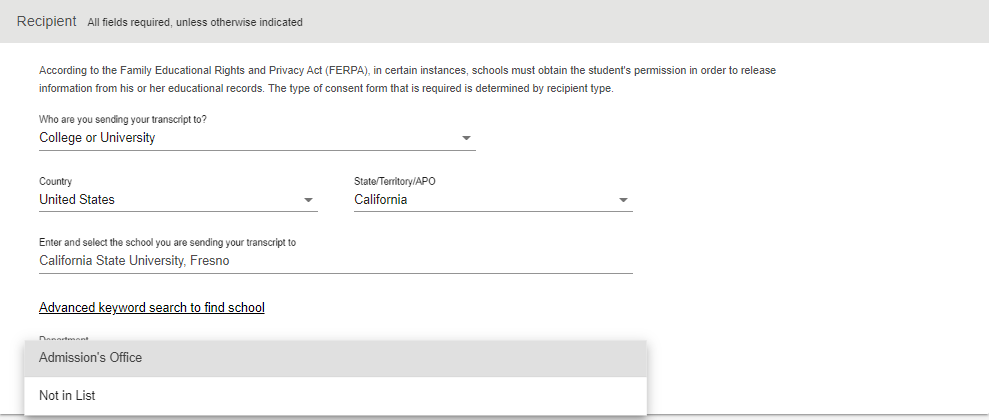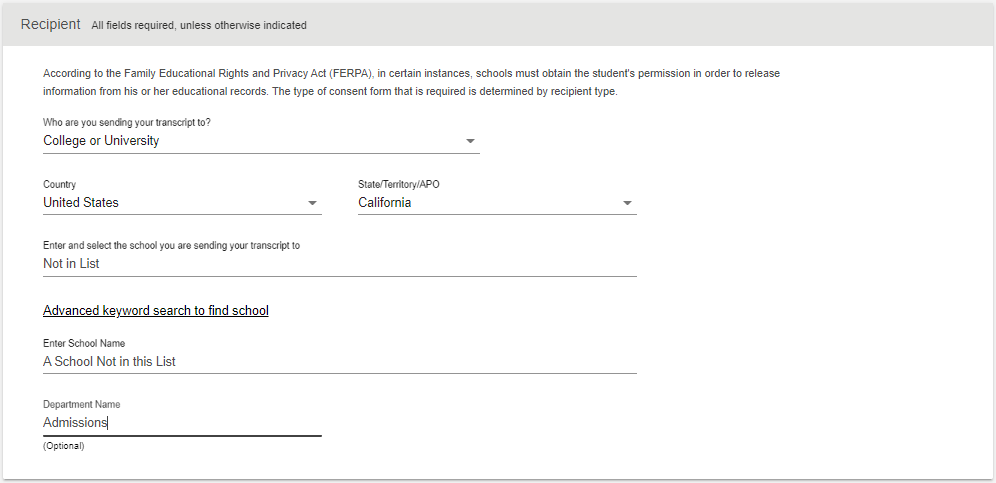 b. If you chose Education Organization, Application Service, or Scholarships, you will need to pick the organization from the list presented.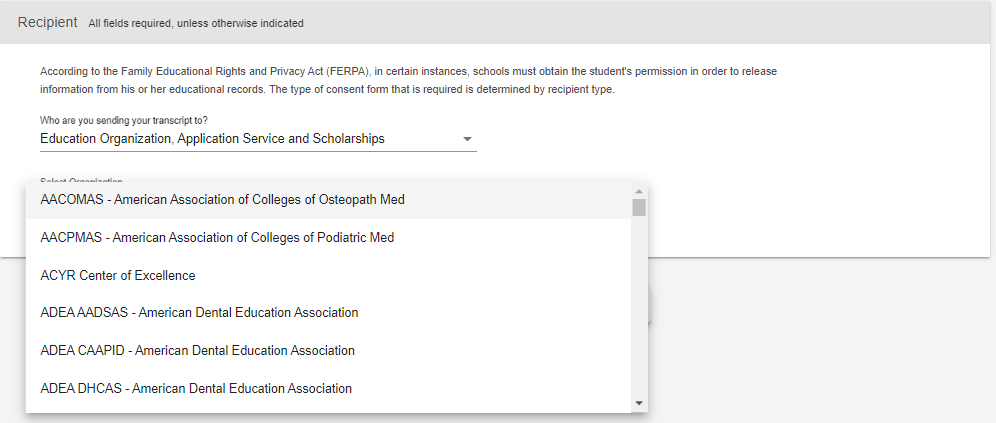 ***If you don't see your school or organization listed, you can choose Not in List. If you choose that option, you will need to type in the school and department you are sending to.***
c. If you chose Employer or Other, you will need to enter the name of your recipient.

d. You can also just send a transcript to yourself by selecting Myself.
5. Next, you will need to select your order options and delivery details.
a. First, choose the processing details. For the first question, the only option is Current Transcript – Process As Is. We do not hold orders for degrees or grades, so if you are waiting on a grade to be posted or your degree or certificate to be conferred, do not place your transcript order until you confirm that is complete.

b. Next, indicate why you are placing a transcript order:

6. The next set of options is your delivery information. The delivery options displayed are based on your recipient information. In some cases, there will only be one method of delivery the receiving institution allows for from the National Student Clearing house ordering system. If you don't see the delivery method you want to use, you will need to go back to the recipient screen and use the Other option to manually enter the receiving institution so that you have other delivery methods available here.
This is also where you choose how many copies to send to this recipient. In most cases, this defaults to 1.

7. Next you have the option to add an attachment. This is not required.
Usually, attachments are specific documents your recipient has requested. For some employers or organizations, this may be a cover sheet with your ID information, or for scholarships, the application form. You can only upload a pdf, jpeg, jpg, doc, or docx. Other file types are not supported.
Please note, if your attachment requires additional information from Admissions or other college departments, it may delay your transcript order while that is being completed.

8. Finally, review your total and if everything looks right, click Continue.

9. Now you are at Checkout! Here you can review your order and make sure the information is correct. If not, you can use the Edit option to make changes.
You can also add additional recipients – for example, if you are sending a transcript to Fresno State and you want to send one to UCLA too, you can click Add Recipient to go through the steps again. This will add a second transcript order to your total.
If it all looks right, click Checkout.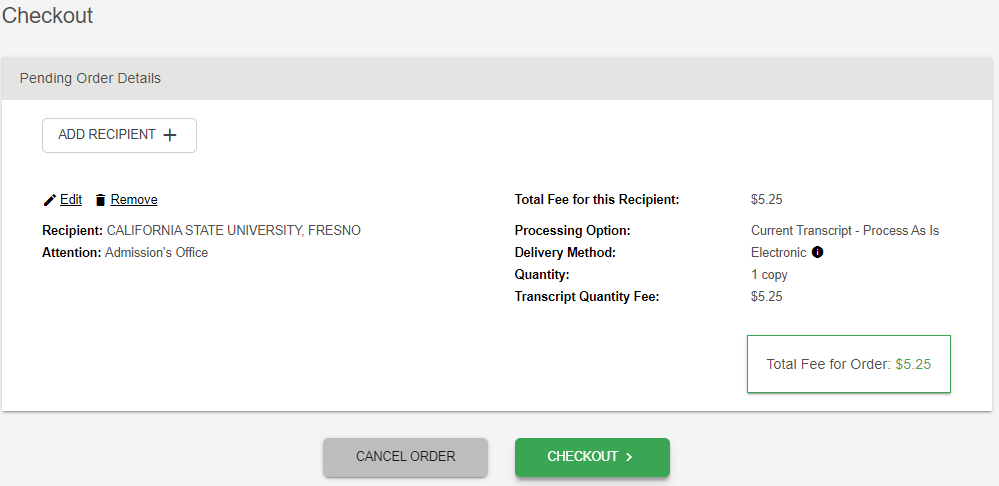 10. The next step is consenting to send your transcript out. You'll see your name, order number, and recipient listed at the top. Underneath is an Electronic Consent Form. Click the Sign Here box to sign. You can use your mouse or your finger on a touch screen to sign.
If it looks right, choose Accept Signature. Once you complete this portion, choose Continue at the bottom.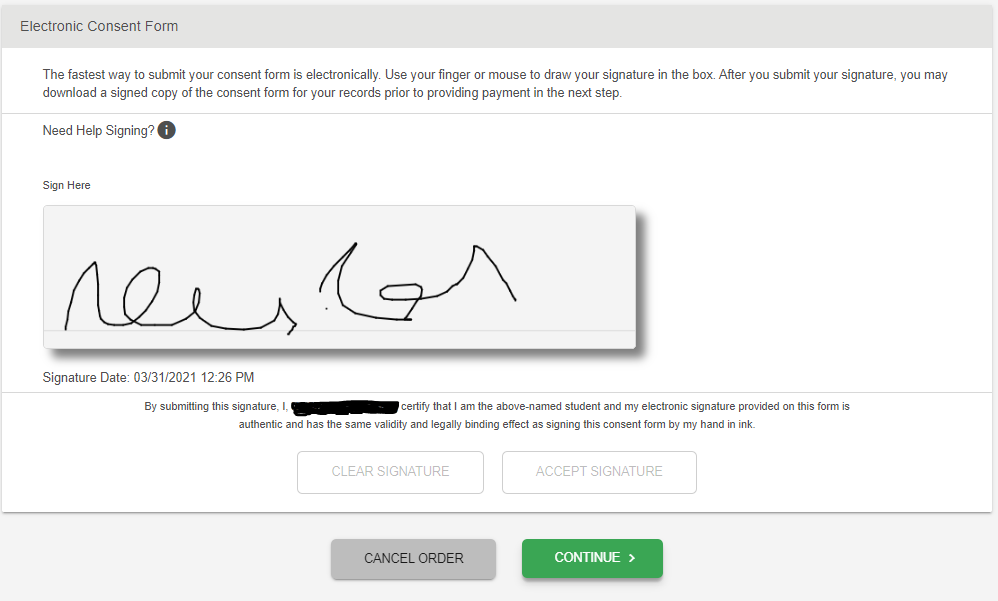 11. Finally, enter your payment information. When you have entered your payment, click Submit Order: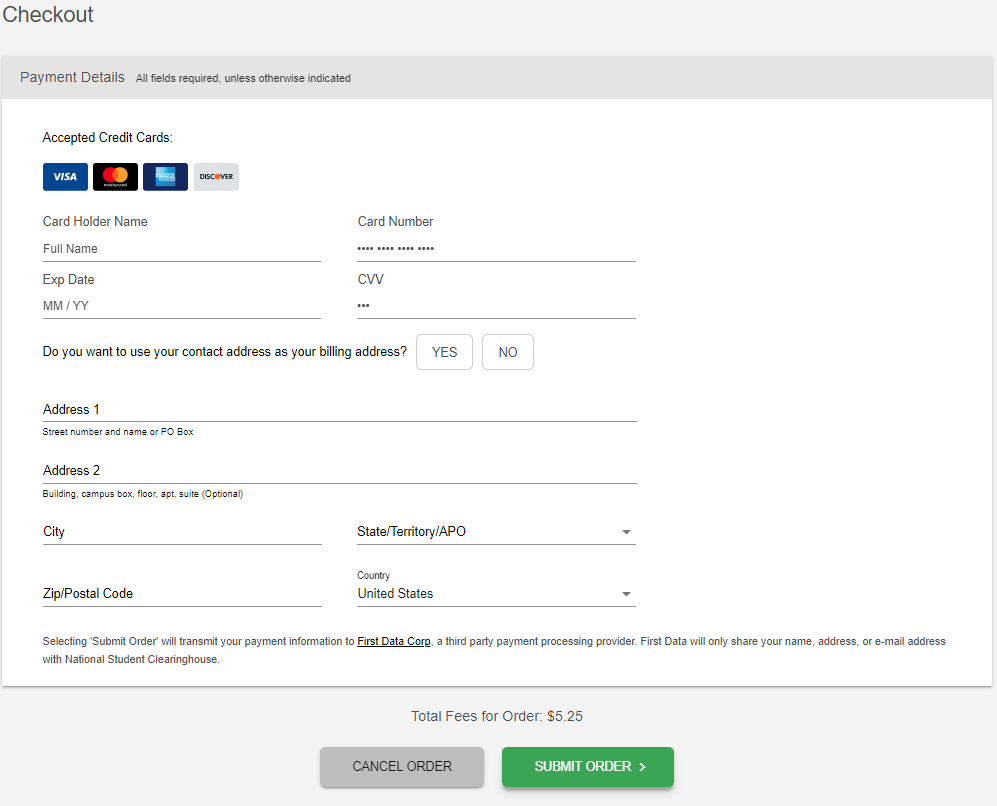 ***Did you want to use one of your 2 free transcripts instead? Cancel your order and make an appointment with us at https://calendly.com/whcc-admissions-and-records/ We can provide you with a sealed transcript copy to send to your school, employer, or other institution.