This is an overview of new security features in Office 365. These features were put into place from November 2021 to January 2022.
Safe Links
Safe Links is a feature that helps protect you from malicious links in email and other Office 365 applications. Safe Links will "re-write" links so that when you try to visit them, they are checked against known lists of bad links. This process will be invisible to you unless a malicious link is detected; in this case you will see one of the warning pages shown here: https://docs.microsoft.com/en-us/microsoft-365/security/office-365-security/safe-links?view=o365-worldwide#warning-pages-from-safe-links This link also includes more detailed specifications about Safe Links, if you are interested.
Here is an example of a link in an email that is re-written to go through Safe Links: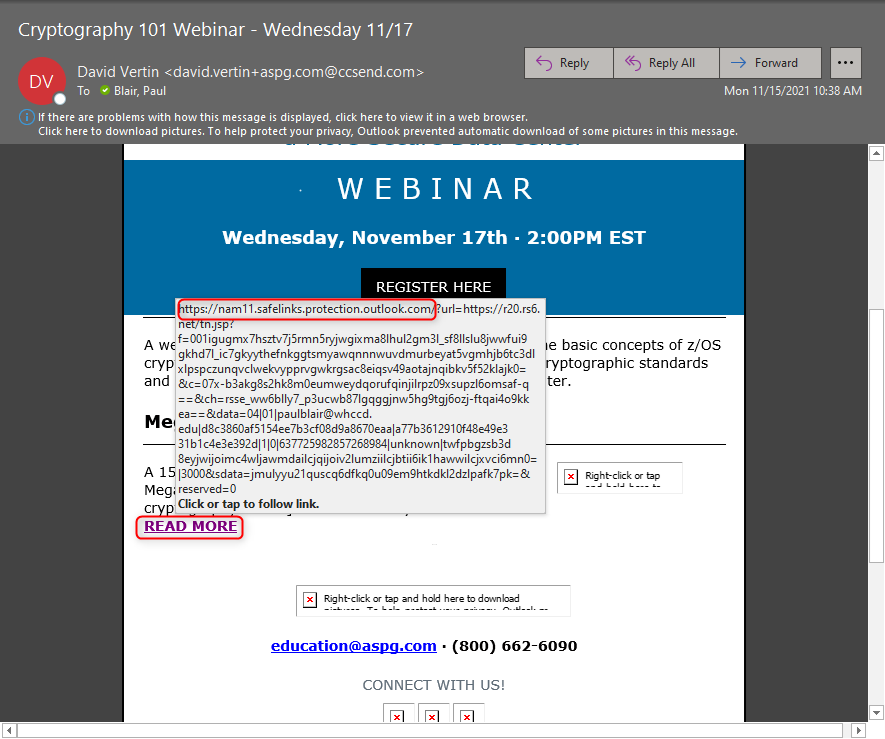 Safe Attachments
Safe Attachments is an additional layer of protection for email attachments in addition to the existing malware scanning that already takes place. This feature is mostly to help IT identify and respond more quickly to threats. You shouldn't notice any difference on your end with this feature enabled.
Technical information on Safe Attachments can be found here: https://docs.microsoft.com/en-us/microsoft-365/security/office-365-security/safe-attachments?view=o365-worldwide
Anti-Phishing
If a message is suspected to be phishing or malicious in nature, it will be quarantined. You will receive a notification that you have one or more messages waiting for your review. If you determine that the message is legitimate, you have the ability to release it to your mailbox.
Here is an example of the notification you will get when you have items that are quarantined: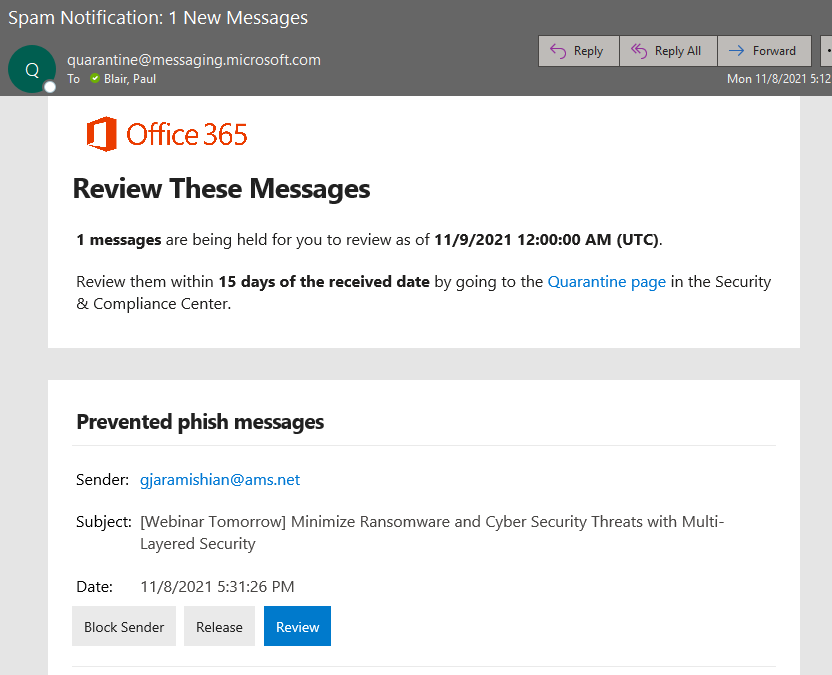 Safety Tips and Indicators
Safety tips and indicators provide information on a message that can help you determine whether or not it may be fraudulent. Below are examples.
Safety tip for an unverifiable sender address:
First contact safety tip:
The First Contact safety tip is shown in the following scenarios:
The first you get a message from a sender
If you don't often get messages from the sender.